Reset & Rejuvenate Retreats
Who nurtures you, the busy person that you are?
This is a question I ask many of the people I work with. Oftentimes I get blank stares. No one ever asks us that question. And we tend not to ask ourselves that question because we're avoiding the answer…
This is the chill reset trip you've always wanted but perhaps just didn't have the right people to go with.
Just because this is in Napa Valley, doesn't mean you have to drink wine or any alcohol! While we will be visiting some wineries, it's the overall feel of the area and the winery experience that is healing and calming. It expands our thinking when we learn new things and wonderful metaphors abound between how grapes are grown in Napa Valley and who we are as hard-working people! Intrigued? I thought you might be…
There will be some group learning time, reflection time, and lots of self-care, self-compassion, laughter, and lightness. We want this to FUN and LIGHT! 
Also, we want to encourage you to do what's best for you during this time. If you need to sit something out and do something else to best take care of yourself, we want you to do that!
This is your chance to review the past year and be intentional about the upcoming year.
Pairing this with our Monthly Group is highly recommended to keep your momentum for nurturing, self-compassion, and self-care going!
Who's organizing this? 
Megan Bayles Bartley here! I'm the founding director of The Mindfulness Center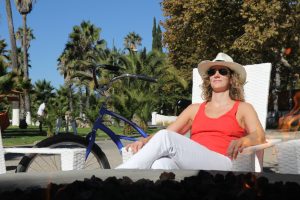 and Louisville Mindfulness Center. I have done retreats in beautiful places around the world and keep coming back to this wonderful space. I am combining all my skills and abilities as a therapist, mindfulness coach, author, public speaker, Ericksonian hypnotherapist, an Usui and Karuna Reiki Master to bring you this wonderful opportunity. My intention is for you to find peace and joy in this event and any experience you have with me. Still not sure, please check out my websites and read our reviews and testimonials!
Can I bring a friend, partner, or spouse?
Absolutely! We encourage it! Want to share a room? Let us know!
What if I'm more introverted and typically dislike group events like this?
Then this is THE event for you! I (Megan) am also quite introverted and need A LOT of alone time, so I understand! There will be tons of downtime, quiet time, and time for journaling. I will be thinking specifically of my fellow introverts when planning group activities so you are less likely to feel overwhelmed. And, if you need some time away from the group, just take it! We'll miss you, but we TOTALLY get it!
What will the retreat entail?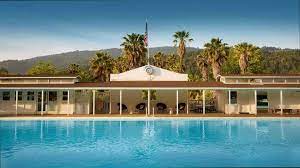 We want this to be a chance for you to slow down, have fun, meet cool people, reflect on your previous year, and set some goals for the upcoming year – ultimately to refresh and reset yourself. With that said, you get to choose how you want to use your time! There is no right or wrong way to do this thing called life! Sleep in, schedule lots of spa appointments, read a fun book, lay by the pool, take a nap, bike into town…
We will have some retreat-time meet-ups and fun events planned so you won't be bored at all! 
You will receive a wonderful retreat notebook for you to begin on your flight to California and to continue through the week during our times together and for your own reflection time.
Through our group time and the prompts in the notebook, you will review your previous year, contemplate where you are currently at, identify and even get beyond any blocks in your way, and set intentions for where you want the upcoming year to take you.
While this will all be very "productive" the real productiveness is the nurturing
that is at the forefront. The intention for this retreat is:
For the group itself to be nurturing as we come together with synergy and intention for nurturing, relaxation, and a reset/refresh.

For you to conceptualize self-care and nurturing in new ways so that it begins to happen automatically, without you needing to put a lot of "work" into it. The last thing any of us need is another thing to add to our "to-do" list or a reason to feel guilty for not doing it.

Allowing yourself to let go, have fun (as you define it!), be light, find joy, and nurture your spirit. You will have time to do exactly what you WANT to do (not HAVE to do). You can go to the spa, soak in the healing mineral hot springs pool, take a nap, make friends with like-minded women, take the free hotel bikes into town or over and see nearby resort Solage, and ultimately just relax and enjoy the time to yourself.
An annual retreat takes place in Napa Valley in January. Megan is also available to provide retreats for organizations at the location of your choice.
Learn More About The Mindfulness Classes
What Are You Waiting For? Get Centered in Seconds® Today!